Relocation Agent Network Employee of the Year Award Shortlister: Naomi Webborn from Dawsons Estate Agents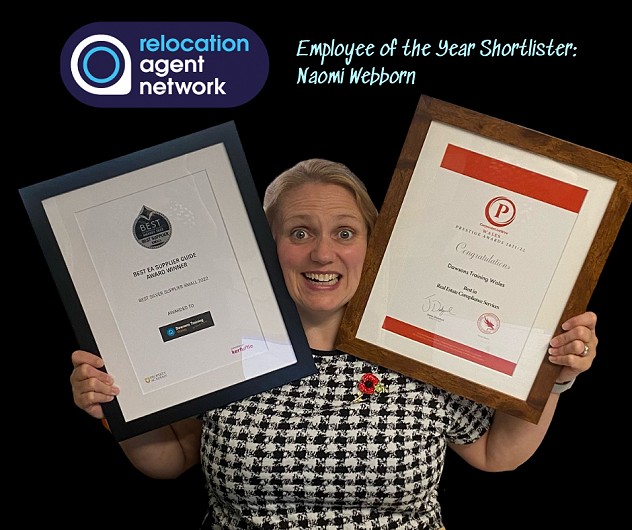 The Dawsons team will be attending the Relocation Agent Network Live 2021 National Conference and Exhibition on 3rd December in Birmingham. The business conference is exclusively for the trusted members of the Relocation Agent Network (RAN) and welcomes estate agents from across England, Scotland and Wales. It provides us with unrivalled opportunities to network with fellow members and to learn all about the very latest industry innovations and also welcomes some of the UK's top keynote speakers for industry intelligence including;
Roger Martin-Fagg – leading global economist;
Kate Ancketill - business futurist;
Peter Brodnicki – CEO, Mortgage Advice Bureau;
Nathan Emerson – CEO, Propertymark;
Christopher Watkin – Industry Consultant;
Tony Morris - Expert Sales Trainer;
John Bullock – Expert Trainer and
Melanie Howell - Expert Lettings Trainer.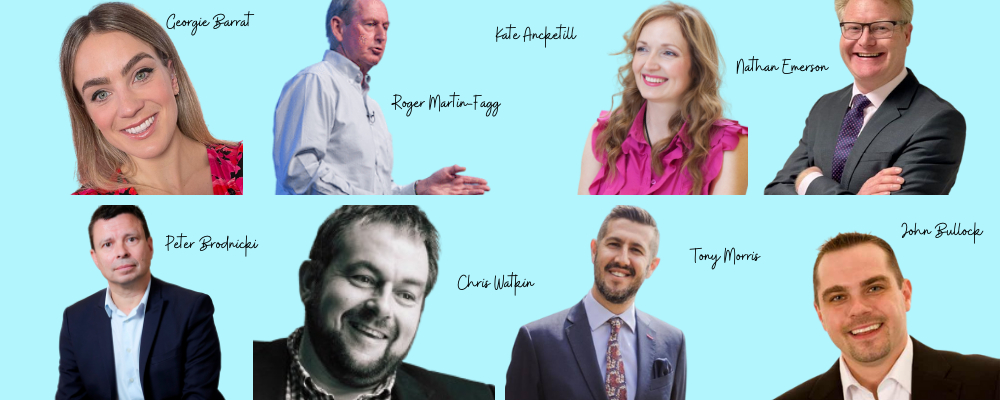 The event culminates in a black-tie evening Awards Dinner, hosted by the television broadcaster, Georgie Barrat, Gadget Show presenter and tech journalist, who will also be presenting the Award Winners for 2021, and we are delighted to announce that our colleague and hugely popular team member Naomi Webborn is shortlisted for the Relocation Agent Network Employee of the Year Award!
Naomi Webborn is our Marketing, PR and Systems Co-ordinator managing all for the Sales and Lettings Divisions of our business. She has complete responsibility for all our social media platforms, Facebook, Twitter, Instagram, Google, YouTube and Linkedin and she chairs the monthly meetings with our marketing team, who are always looking for new initiatives to promote the Dawsons brand and the Relocation Agent Network, ensuring that the seasonal RAN artwork is up to date and clearly promoted within our branches, stationery, email footers and headers.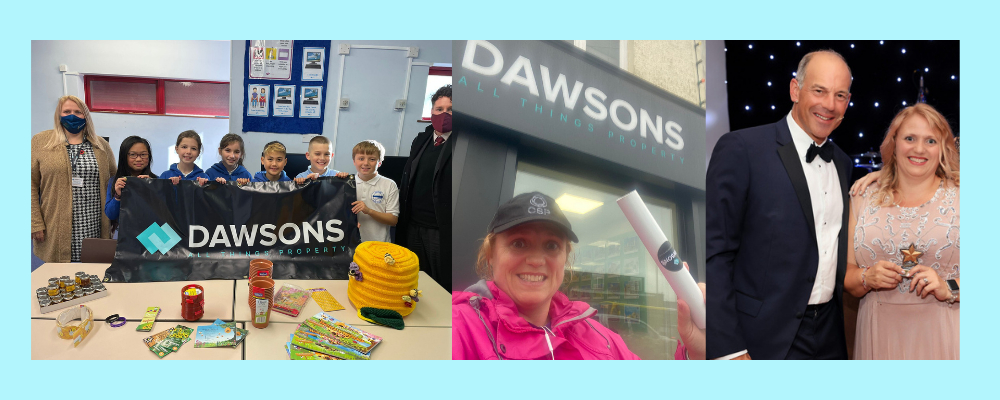 Naomi is also the point of contact for Oakleigh House School in ensuring all RAN referrals receive the best service and outcome. She is the sole coordinator and promoter of the Trussell Trust for our annual food drive and she personally distributes the food parcels across our local food banks, giving much-needed support to those who are less fortunate in the local Swansea area. Naomi is a regional ambassador for our industry charity, Agents Giving, and she is a tireless fundraiser for many charities, also promoting the personal fundraising of any team member.
Naomi is such a selfless person, mum to 3 young children, and her oldest boy George suffers from a rare Condition OA/TOF (Tracheo-Oesophageal Fistula and Atresia) and yet she always puts community work, local sponsorship and charity work for Dawsons and the TOFS charity that support her at the forefront of her priorities. Here are some of her recent initiatives:
A 70-mile challenge for Refuge with the Tenancy Deposit Scheme (TDS).
A 31 mile personal Challenge for Great Ormand Street Hospital.
'Tags for Tots' initiative at the Wales Airshow – supplying adults with wristbands for their children with their contact number, so they can be easily reunited should that child go missing.
An active member of the Swansea City Disabled Supporters Association.
Visits to local schools and classrooms to talk to children about 'houses' and their ambitions, including the Dawsons membership of the 2BEnterprising School Scheme.
Playing a huge part in educating and promoting the rare condition TOFS, whilst raising much-needed funds.


In addition to her daily workload, and all of her community help, Naomi has responsibility for our Feefo client review platform, ensuring all reviews are responded to promptly, and personally overseeing the response to any issues which require further research and ensuring a positive outcome for all involved. Along with all her other day to day tasks, Naomi is responsible for all company milestones, birthdays, anniversaries, promotions, achievements and the Dawsons monthly staff newsletter, together with coordinating the Dawsons Employee Well-Being programme. She actively encourages an inclusive link between the staff and partnership which is key to our collective thoughts and achievements.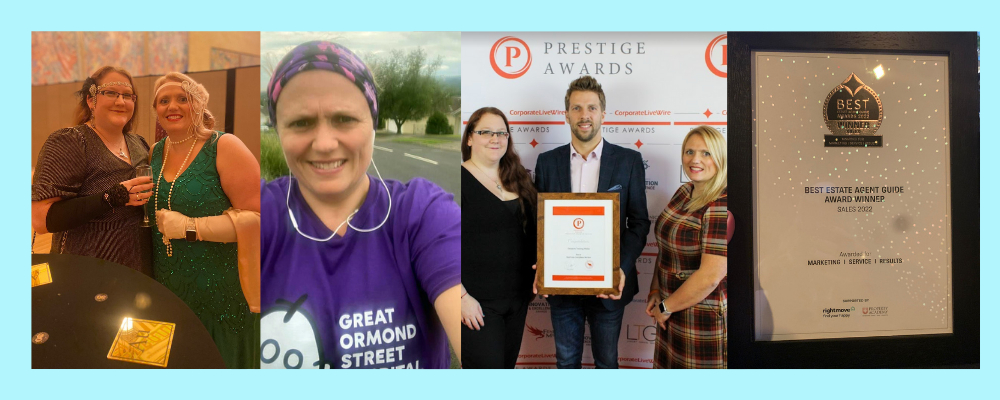 Naomi is also hugely instrumental in the success of our landlord and letting agency training platform Dawsons Training Wales (for Rent Smart Wales). She helped to establish and promote the brand to become the recognised training platform for the local area and beyond. Not only did Naomi co-write the online courses, including all modules that were accepted and recognised by Rent Smart Wales and signed off until 2023, but she is also an accredited trainer for both online and classroom courses, assessing and marking exam the papers along with her colleague Kate Philips, and she personally rewards the delegates with personalised certificates upon completion of their training course.
Some of the reviews received for Naomi's training course: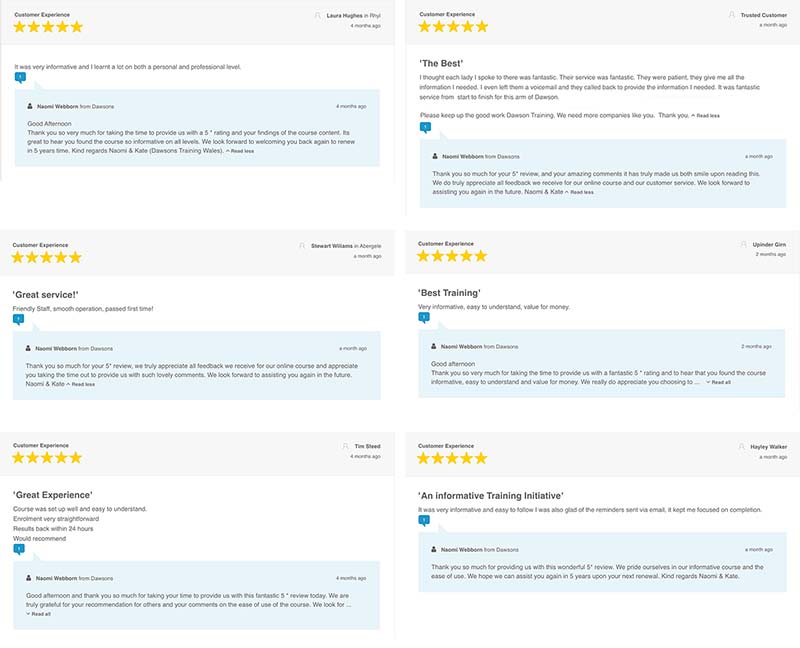 Naomi along with Kate and Ricky Purdy take all the credit for being awarded silver for the best small supplier award in the EA Masters for 2022.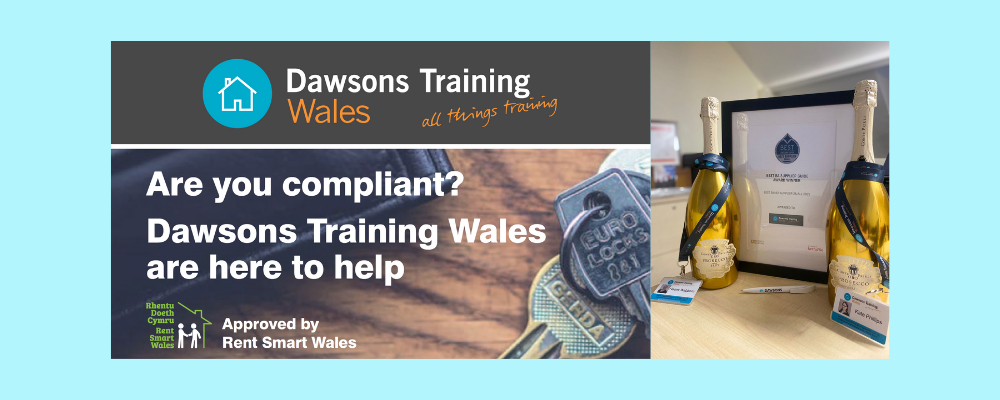 Dawsons have just celebrated our 30th birthday with an evening themed on 'Peaky Blinders', which Naomi organised for our 80 staff, along with DJ, casino, 3-course dinner, drinks, prizes, you name it, she did it! Naomi is also responsible for staff induction, ensuring they feel welcomed, understand our expectations, core values and that of our business associates. We pride ourselves on our staff retention which year on year continues to beat the national average. Naomi will go out of her way to ensure everyone feels inclusive and valued. The impact for our business this year, our social media is the envy of all across all platforms based on the fantastic feedback we receive. We re-branded this year and this again was coordinated by Naomi having a countdown and timeline to the unveiling!
Above all, credit must go to Naomi for being:
Elected Regional Ambassador for Agents Giving
Awarded Best Social Media award by Agents Giving
Awarded Silver in the small business supplier for DTW in the EA Masters 2022
Awarded Best in Real Estate Compliance Services at the Wales Prestige Awards
What does OUR Network membership mean to our customers?
Relocation Agent Network has chosen Dawsons to represent them in the Swansea and Carmarthenshire areas. Our membership means that we've been specially selected to be the area's Local Expert, based on the quality of service that we provide, our local knowledge and professionalism.
The Network personally selects each of its members, basing criteria on the quality of service, local knowledge and professionalism. Through its affiliation with Dwellworks, the market leader in global relocation services, Relocation Agent Network members help Dwellworks move relocating families in and out of areas across England, Scotland and Wales. This offers Dawsons customers an additional channel of buyers when selling their property. Through the Network, members can also help their relocating customers by passing them to a fellow Relocation Agent Network member in the area they are moving to. If you are thinking of relocating to or from the Swansea area, find out more about our relocation service HERE.