Why house sales fall through and how to prevent it happening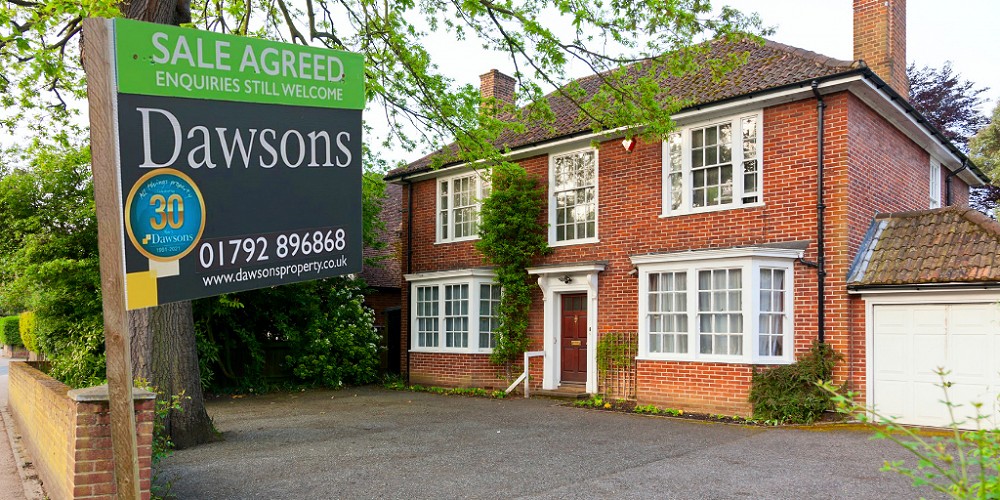 Did you know that a total of 306,198 property sales fell through before they reached completion during 2020. That was 12% more than in 2019, much of which was attributed to the covid pandemic, however, it is still a staggering amount of disappointment for those who are trying to move home. Aside from the upset that a broken property deal can cause, it is also very costly, with a recent survey by the Homeowners Alliance calculating the cost of a failed property transaction at £2,700. The Dawsons Property fall through rate (2021 year to date) is 16% against the national average of 32% for the first quarter of 2021. With our Llanelli and Gorseinon branches only seeing a 7% and 8% fall through respectively. We are delighted with these statistics and attribute these to the very thorough checking process carried out by our sales negotiators and testament to the sheer hard work and tenacity of our dedicated sales progressors.
The top 4 reasons for a sale to fall through are:
The chain collapsing: More often than not the chain was weak or incomplete at the point of offer acceptance, and that is why at Dawsons we always advise our clients to sit tight until we see progress so that we can minimise risk, loss of money, disappointment and frustration.
Poor survey: Invariably survey findings can identify potential problems unbeknown to the seller and agent. A good agent will help provide solutions, seek further investigations and help to re-negotiate on price if both parties agreeable.
Finances: A huge bug bear of the Dawsons team is that many other sales agents will not look to qualify their buyer's affordability and circumstances. Lending has been particularly volatile since Covid and just because the bank/building may have said 'yes' previously to a mortgage application they can change their mind, especially in view of a change of circumstances.
Change of heart: There is not a great deal which can be done about this one. Rest assured we will spot those wavering buyers sooner rather than later. We are a long-standing experienced agency, so we know all of the tell tale signs and of course we want to get the property back on the market at the earliest opportunity.

Supply and demand in 2021
2021 has seen a huge surge in property transactions, as the market has re-opened, lots of pent-up frustration from being locked into an unsuitable property, has increased the number of applicants registering for property, up 52% on 2020 according to Rightmove. This huge demand has, of course, increased property prices, the average UK asking price now stands at £333,564.
Tim Bannister, Rightmove's director of property data recently commented: "Buyer affordability is increasingly stretched, but there's still some elasticity left to stretch a bit more as many buyers are squeezing their way into higher price bands. Prospective buyers are now faced with record prices for newly marketed properties in all regions and countries of Great Britain except London, with 3 areas seeing average rises of over 10 per cent in the closest available year-on-year comparison: Wales is growing the fastest at 13.0% per year, followed by North West (+11.1%), and Yorkshire & the Humber (+10.5%). The average increase for all regions outside of the South of England is 9.7%."
In the first quarter of 2021, 36% of sellers received offers from three or more buyers, so we work hard to ensure that applicants are pre-qualified and are aware that 'making an offer' lower than the asking price, will probably mean losing out. Many properties go for over the asking price and with demand this high, that is likely to continue for some time. Of course, these 'bidding wars' are now leading to bad practice amongst buyers, and that is why at Dawsons we have a dedicated team of sales progressors working on all property chains every day. Having your dedicated sales progressor monitoring the transaction can often help avoid a gazumping and gazundering situation, which can be emotionally and financially devastating for all.
Gazumping is when another party makes a higher offer on a property which a buyer is in the process of purchasing, forcing the initial's buyer's transaction to collapse.
Gazundering is the practice where a buyer lowers their offer at the last minute, prior to contracts being exchanged, when the vendor is 'too far down the road' with their own purchase to pull out.

How long should a sale take to complete
There is a lot of conflicting information in relation to the average time from acceptance of the offer to exchange of contracts, however you only need one long chain with title or lease issues, to push that average right up. At Dawsons we find it takes anywhere between 8 weeks to 6 months, depending on buyers/sellers circumstances and those involved in a chain. We know that unless the selling agent does a thorough check of all parties in the chain at the offer stage, and keeps checking from the top of the chain to the bottom on a very regular basis, the risk of disappointment / loss of money is far greater.
At Dawsons we regularly come up against other sales agents who do not have the first idea of the chain details and it is impossible for them to advise their client so often a 'weak chain' develops. Invariably if we find there is a long chain and the buyer at the bottom has not committed to the process by way of submitting mortgage application and paying for searches etc. It is very disappointing that some sales agents in Swansea will not even get involved in the transaction after the offer is accepted, they feel their job is done and move onto the next deal. Usually these are flat fee agents, a one-off charge to list the property and that might seem very tempting at the 'finding the right agent' stage of the journey, but definitely comes back to bite you later on.

How to prevent a fall-through happening

First and foremost choose a reputable estate agency with a dedicated sales progression department and a highly reputable solicitor. Many fall-throughs are preventable by having an experienced and knowledgeable team to pre-empt and quickly provide solutions to any unforeseen problems thereby helping to move the transaction on swiftly negating the risk of either the seller or buyer pulling out due to delays.

Communication is key to the process and the sale should be monitored very closely throughout the transaction. The knowledge of an experienced team is second to none, they will have great rapport with local solicitors or conveyancer, and be able to assist with lots of administrative tasks to speed up the process. They may well have handled numerous transactions within a blocks of flats, a new development or just in the same road and so are ready for any problems before they even arise.
Finally, be prepared to dust yourself off and try again. Inevitably some sales fall through and it's out of anyone's control. We can help offset this cost if you arrange your mortgage via Mortgage Advice Bureau @ Dawsons for just a £1 charge where buyers can receive up to £1,850 compensation for legal, survey and mortgage arrangement costs if the seller withdraws or accepts another offer. The same applies if a search or survey reveals something that prevents them from completing the purchase. Up to £720 is on offer if external events stop a sale or remortgage from going through.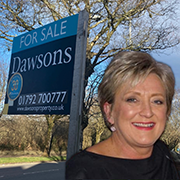 Joanne Summerfield-Talbot
Director of Residential Sales