September Newsletter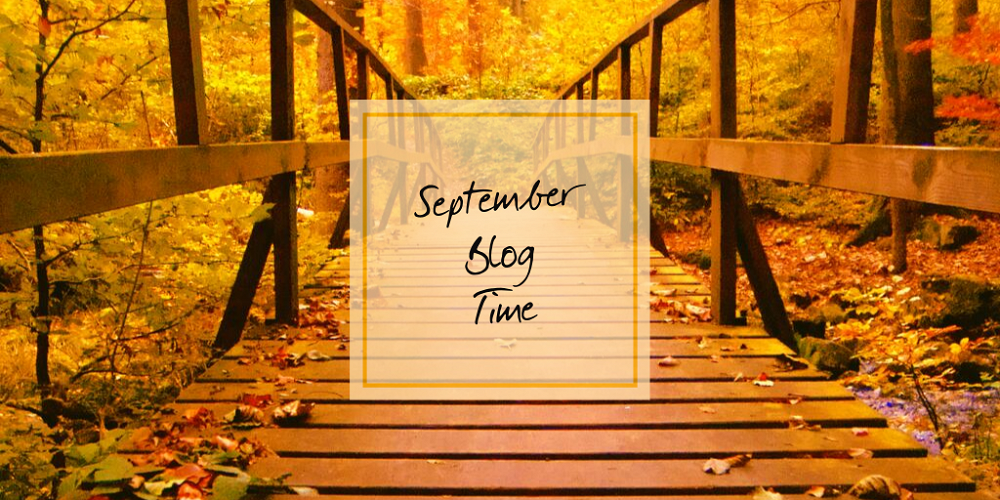 Community:
On Sunday 4th of August, a team of brave souls from Dawsons took to the sky in a small aircraft and threw themselves out at 12,000ft with Skydive Swansea.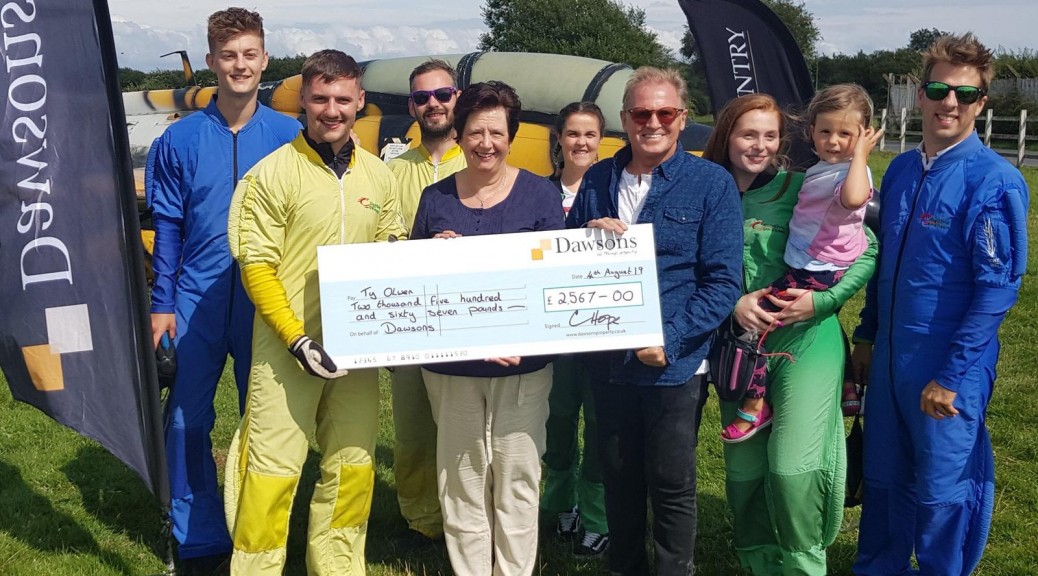 The reason for this brave feat was to raise money for local charity hospice Ty Olwen. After the jump, delighted and relieved, the team met up with Dawsons Senior Partner Chris Hope to present Helen from Ty Olwen with a cheque for £2,567.
The aims of the Ty Olwen Trust are:
To relieve patients of the Ty Olwen Palliative Care Service who are suffering from cancer and life-limiting diseases by the provision of amenities, equipment, services and facilities not normally provided by the National Health Service.
To extend such service and amenities to patients suffering from cancer and life-limiting diseases who require medical and nursing support in all care settings.
To assist the family or dependents of patients suffering from cancer and life-limiting diseases who are in necessitous circumstances in particular as a result of these illnesses.
To promote and support research into the causes and treatment of cancer and life-limiting diseases at Ty Olwen and to assist in the dissemination of the results thereof.
To award bursaries to enable nurses and other staff and helpers to undertake specialised training courses.
Industry News:
On the 4th and 5th of September, Team Dawsons canoed 31 miles down the River Wye from Hoarwithy to Monmouth, fundraising for industry friend Dom Subbiani and The Huntington's Disease Association.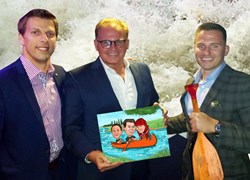 There were over 100 property professionals who joined together for the challenge and it turned out to be one of the biggest charity events the industry has ever seen. By day we took to our canoes, covering 31 miles of river and rapids, by night we continued to raise money with a charity auction and games to help raise more funds.
Dom is loved by many in the industry, due to his easy-going nature, his kind and thoughtful approach and fantastic sense of humour. He has has been in the property industry for many years and runs a successful estate agents and holiday lets business, called FBM in Haverfordwest. The agency is also part of the Fine & Country network, alongside Dawsons, so we all know Dom very well and are delighted to take part in this amazing event. If you are able to spare a few pounds, please click HERE. All donations are hugely appreciated, it is hoped that Do It For Dom 2019 will bring the fundraising total over £100,000.
August Top Tip:
REALISE YOUR LAND'S POTENTIAL!
Your agent can advise you on the best local solicitors. They speak to them daily and understand which will work the best with you. The last thing you want is a lengthy conveyance.
Auction News:
With only one auction remaining in 2019 on 20th November, do not miss your chance to buy or sell. This year we have sold over £3,000,000 worth of properties and land. If you have any surplus houses, commercial units, yards, plots, fields etc. we can sell them. Giving you money in the bank before Christmas.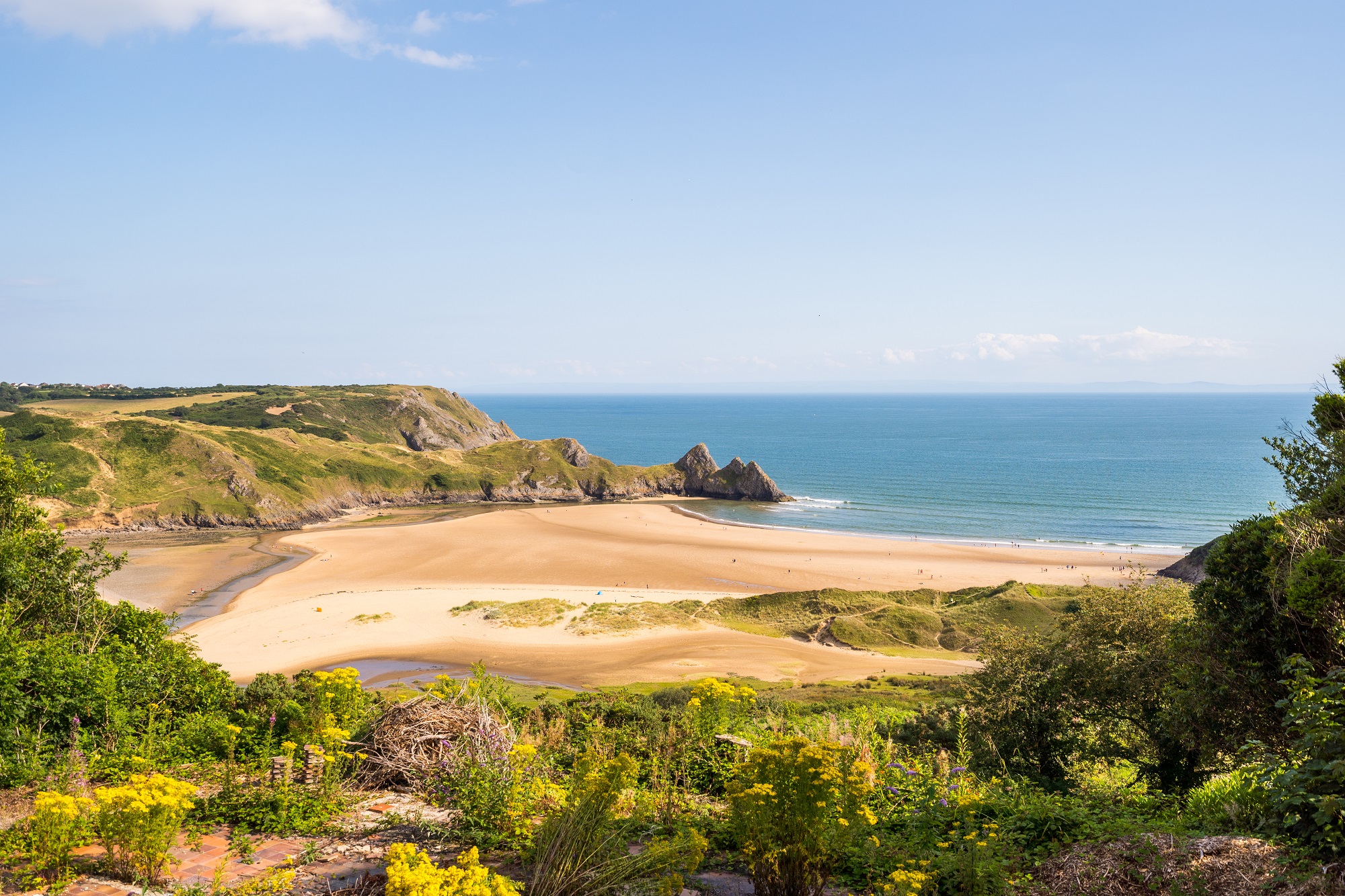 The above property in Three Cliffs was listed on the Auction site for £500,000 and actually sold for £800,000 prior to going to the room. There were many great success stories in the October Auction, including a property in Eaton Road, which had been very unlucky with 2 sale fall-throughs via Private Treaty Sale, due to required work and lease issues, and eventually they took Dawsons advice, went to the auction room and achieved an instant exchange at the same level as their 2 previous offers. It really is the perfect sale method for any property having survey or conveyancing issues!
Please call our auction department on 01792 478904 if you want your property to be GOING GOING GONE.
F & C Property Focus:
7 Bedroom Detached House For Sale in Langland
Size: 5500ft²
o.i.e.o. £2,740,000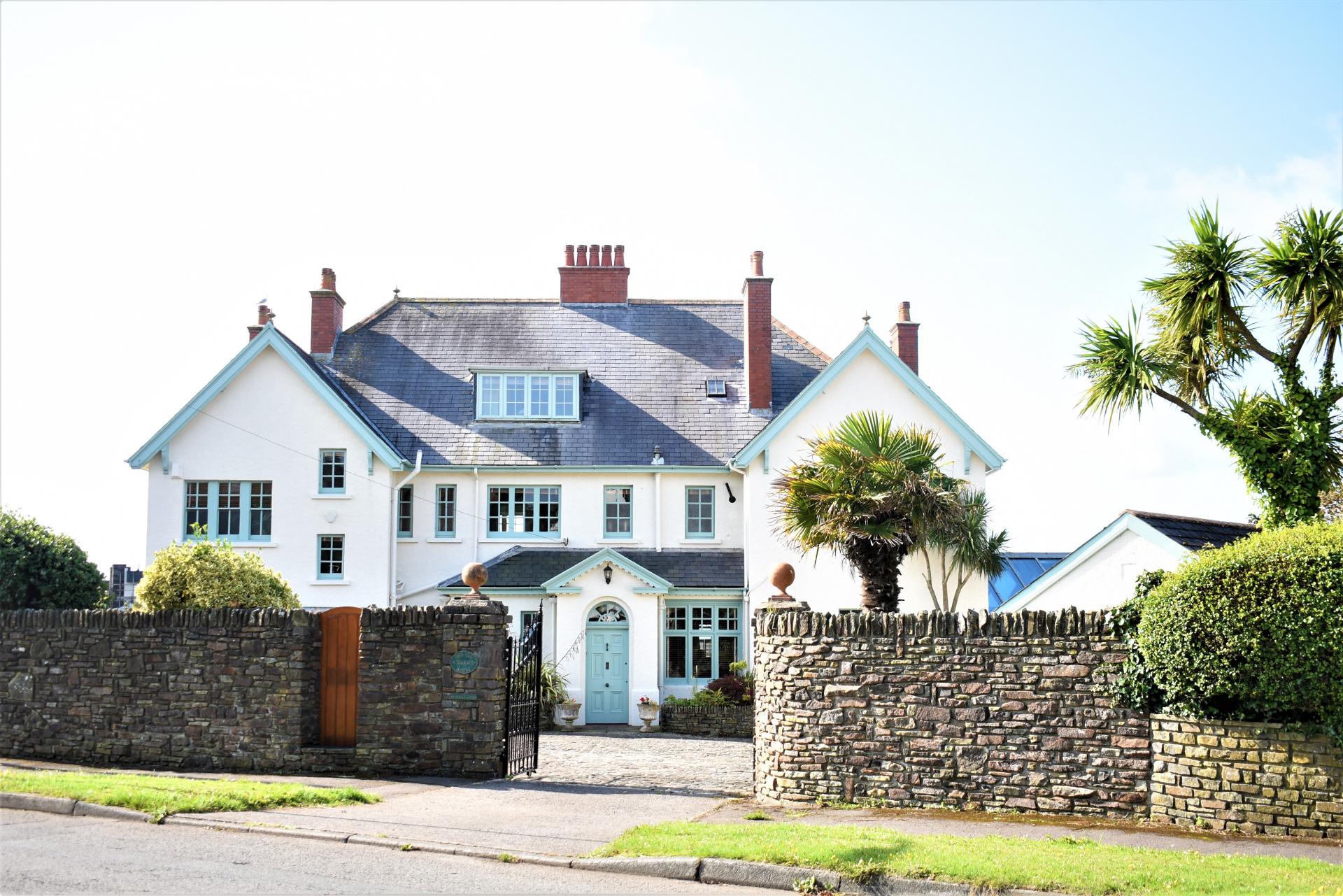 Spectacular, uninterrupted sea views over Langland, The Old Vicarage House is lucky enough to be in a waterside setting in one of the world's most beautiful spots in Langland, Gower. The Old Vicarage House is a beautiful, extensive, detached family home with character and original details in abundance. Glorious and imposing, this home will impress at first sight! PLANNING CONSENT was granted in 2016 for a two-story rear extension. The extension would extend from the dining room and from the directly above bedroom 1, would be approx as wide as the dining room and extend out to as far as the old outdoor stone BBQ. For further details on the plans please enquire.

Business Link:
7 Castleton Walk Arcade, Newton Road, Mumbles SA3 4AX
Licensed cafe at the old Bentley's Nightclub in the heart of Mumbles, Swansea. By day soft play, by night, Comedy, Live Music, Pop-Up Kitchens, Cinema & Private Hire. Also available to hire with some great party packages!
RAN:
Wouldn't it be great to have a friend already living in the area you are moving to? Someone who could provide trusted advice on the up and coming areas, school catchments, local shops and restaurants, or real-world commuting.
Relocation Agent Network members have been selected because they can bring that personal touch to their professional services. Our national network of hand-picked Relocation Agents work together to deliver expert advice whatever your budget. Sounds expensive? Actually, it costs you nothing and is a standard part of the enhanced service offered by your local Relocation Agent Network member. Our difference is in the service, not the price.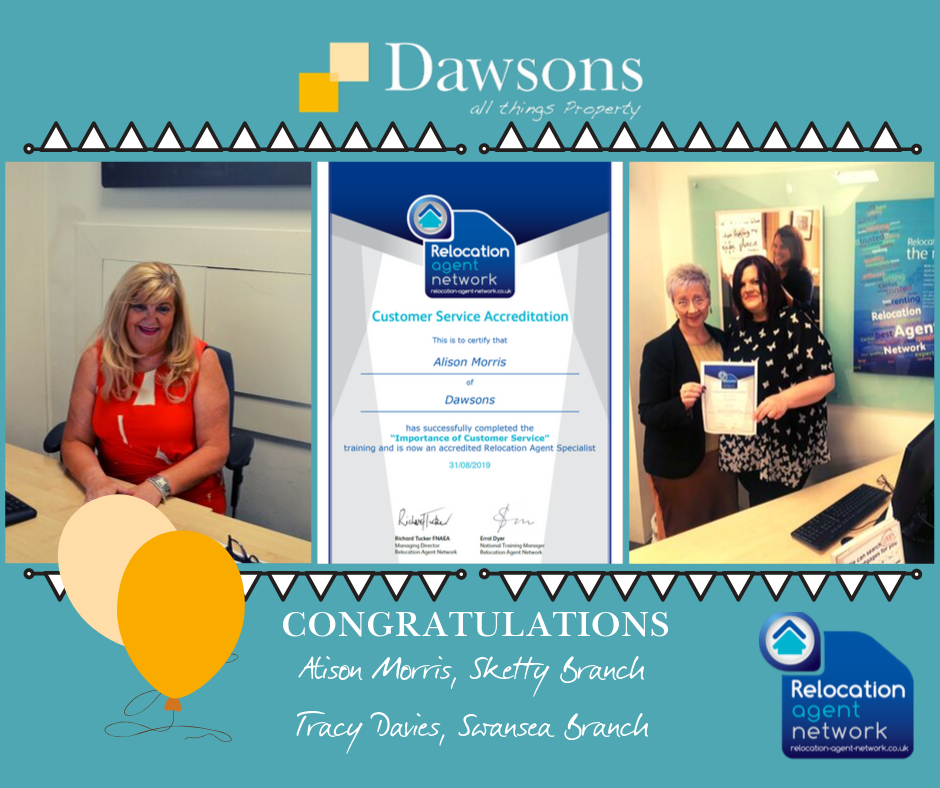 Our two newest relocation Agent Specialists: Alison (Sketty) Tracy (Swansea Sales)
Mortgage Advice Bureau (MAB) update: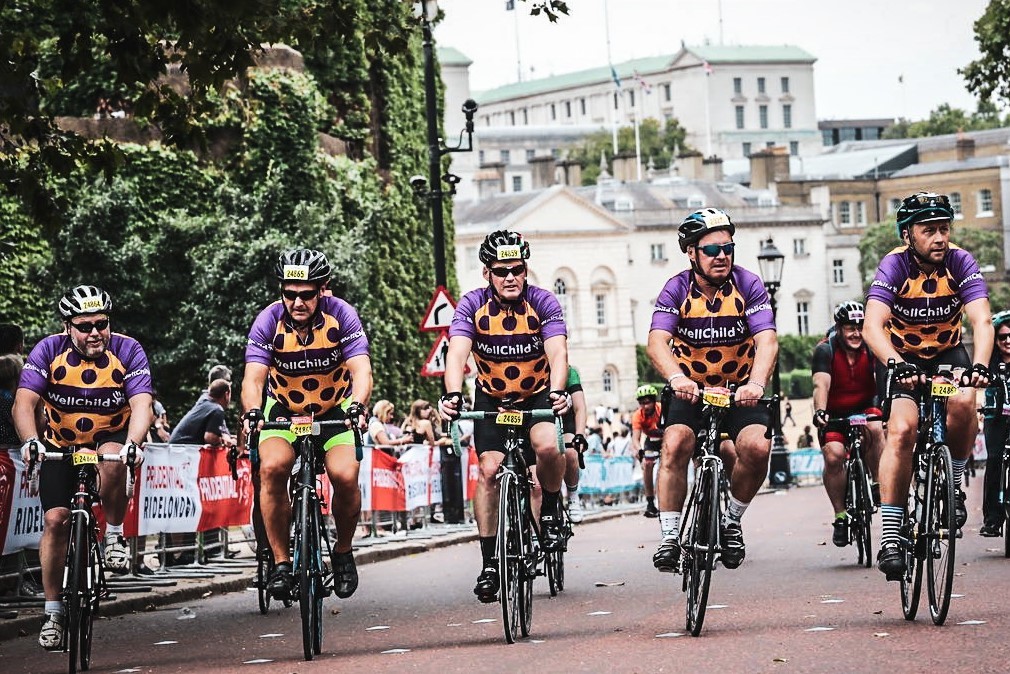 One of our resident mortgage advisers David Treharne has recently taken part in a mammoth charity event. David and his friends cycled 100 miles through London and the outskirts. They started at the Olympic stadium cycling through central London onto Richmond then out to Surrey and the outskirts of Surrey villages then back into London finishing on the Mall. As a group they raised £2,500 -£3,000. As well as raising money for charity, David is also very good at raising extra funds for your property purchase. He has access to over 10,000 mortgages and 95 different lenders, please call one of our offices for your mortgage appointment today.
Reward Card:
Ask a member of our team for information on how to get one of our exclusive Reward Cards providing you with discounts and offers in many local companies throughout Swansea & Llanelli.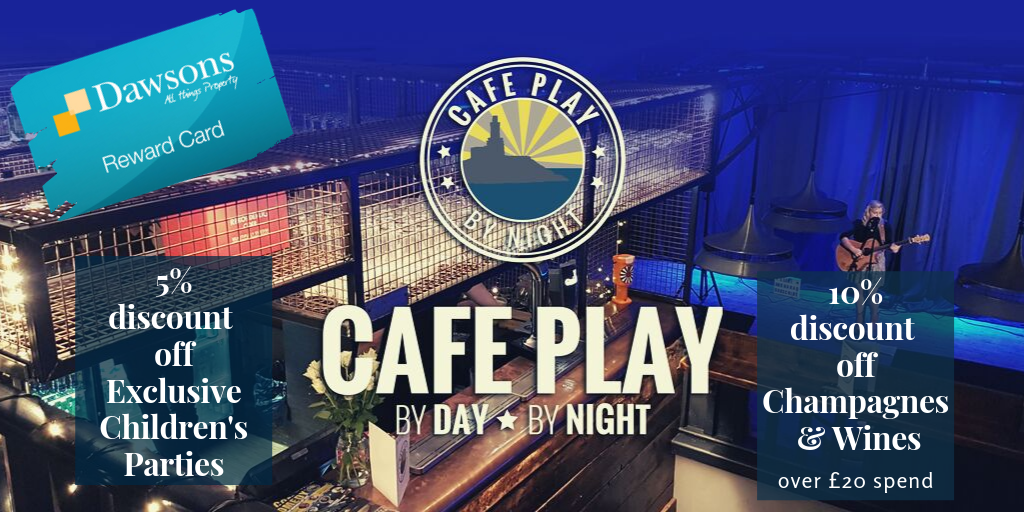 Careers @ Dawsons:
WE ARE HIRING
Are you considering a career in Estate Agency, Property Management or Surveying?
If so, Click HERE.
Subscribe for Our Newsletter